Latest News
 Colette's song, A Lesson In Humanity, from the award-winning album "I Think I Am" never got a music video, until today!
Dedicated to her mom, Lee O'Connor who, as a child, would frequent the woods of Sharon, MA. and bring home injured birds and small creatures. She thought she would like to become a Vet but life took other directions. She married, had two daughters, and started an organic, self-sustaining, farm before it was fashionable. The family raised ducks, chickens, cows, geese, horses, cats and dogs. 
The lyric video tells the true story of Otis, the Barred Owl, that was rescued by New England Wildlife Center, Weymouth, MA. That's where Colette met Otis, who inspired the song "A Lesson In Humanity."
Please visit the VIDEOS tab to view the premiere!
A Pandemic-started Timeline
Summer 2022: Colette has several summer performances scheduled at several Massachusetts South Shore Artisan & Farmer's Market locations. Please see her social media for an up to date schedule of apperances!
February, 2022
Find Your Voice: Colette is creating a new interview series about how people find their voice. Let's face it, new paths are hard to forge and exploring life takes bravery where one faces society and their own fears. There are some who make new in-roads that help others down less traveled roads, and that can make all the difference in their lives too! Might that be you? Chat with Colette. She's interested! On Twitter @OConnorColette 
WICN 90.5 FM, Worchester, MA. NPR Station played Colette's Writing In The Sand as part of The Folk Revival program, Hosted by Nick Noble every Thursday evening at 7pm (Eastern). This was especially meaningful as it is a song that pertains to loosing someone and yet it's uplifting hope, in perpetuity. Colette recently lost her mom.
Jan, 2022
Twilight Showcase Radio, WATD, FM Marshfield, included People On The Porch in their Comedy Radio Special! The manikins could not attend, because they now are part of a 15 piece Jazz ensemble in Tinkertown, MA. Colette, however, called in to say thanks for playing their song!
DEC, 2021
Navy Christmas returned! Colette's "Live from Battleship Cove Radio Show" featuring Mike Doyle. It's an hour long Holiday family fun show, with Cookies! See you next year, God willing!
2021 Project Highlights
Colette's music ranked 7th in the 3rd Round Finals of the National Opening Act Contest! Heartfelt thanks to all who made the daily vote that helped her music grow!
Private Wedding Functions abound! Colette is providing ceremony/cocktail hour music packages. Please email for details!
We hear tell that London's Late Night Noise Cast, with Michael L Roberts extraordinaire, will be returning to see what the Mannequines are up to. Time will tell!
Colette's writing, and hand illustrating, a book of Haiku (celebrating nature in 17 syllables). Watch it develop on INSTAGRAM @thispageofmylife  or TWITTER @OConnorColette 
October 21st is Colette's Birthday! Sadly, she has withdrawn from participation in The Loop concert because it went from live to online. Her issue? She is sad to say that online Zoom concert streaming is not her best feature and show quality is her concern. She may, instead, do something LIVE via social media. On Twitter at @OConnorColette and FB as Music By Colette.
Online interview with Michael L Roberts. It seems that long anticipated Twelfth Peer Productions live interview will have to be held online, due to international travel/Covid concerns. This, however, does give Colette the opportunity to bring Tom Hanks, one favorite Fairytale cat, and the Mannequines (if they have availability) along for the show!
September/October King Richard's Fair is finally happening and Colette will be there, unannounced, of course.
Colette's heart took a really hard hit because her father passed away. In his honor, there's a brand NEW song listed under the Double Down album! Go hear the preview, Put Another Nail In, under the MUSIC tab.
September 23rd, Colette kicked off Nick Noble's 700th Folk Revival Broadcast, live from the state of the art WICN 90.5 FM, Worcester. Her set list included, Tangerine Butterfly, We Heard You (Hey Joni), and The Last Carousel. The whole, amazing, program playlist, will be available for 2 weeks in the show archive at https://www.wicn.org/archive/ 
August 28th, Plymouth Porch Festival was an amazing weather/music/artisan success! Colette (and special guest Mike Doyle) will be performed from Noon to 2 PM at 22 Winslow By The Sea B&B, and then at Plymouth's Pilgrim Hall Museum from 3 - 5 PM! It was a beautiful DAY!
August 15th, Main Street Performance Stage, Carver, MA. Performing live from Noon until 4 PM, with special featured guest, Singer/songwriter Mike Doyle.
August 7th, Newport, RI. Under the WICN FM tent! Do-Do's Garden Calena Avenue Mini Faux-Folk Festival! Once again, Colette has been asked to open this invitational show, co-hosted by Newport Jazz Festival/WICN FM host of The Folk Revival, Nick Noble.
August: Colette is recording background vocals for another artists album projects.
July 23, LIVE Feature: The Voyage Restaurant & Pub. 14 Marshfield Ave, Humarock Beach, Scituate, MA  from 8:30 - 11:30 PM
July 20th, Colette is working in the studio, recording more new music for her upcoming album "Double Down."
2021, Sunday, July 8th, Singer Songwriter Mike Doyle (Music by Mike Doyle on FB) invited Colette to join his Carver Farmer's Feature. They both swapped hours of original music, from noon until 4pm. Then they packed it all in to go sing some more originals at Bridgewater University, First Parish Unitarian Stage's first official post COVID Open Mic. 
June, 2021: Colette was in studio assisting with background vocals, in support of other artists new music projects. 
2021, On June 21st, World Wide Music Day, Colette sang out with a few fun hours that included her originals, a special Showcase Special of her 1940's Steel Beach BBQ Radio Show, and very special guest appearance of Singer Songwriter, Mike Doyle of Taunton MA. Together they filled 4 hours, and Carver's Main Pavilion, with live music!
June, 2021: People On The Porch UPDATE:  The Manniquins, Lydia & Fred, made international history...see here! https://youtu.be/KBqW6m2HO2M
Feb, 2021: RADIO: Colette was the featured artist Feb 21st on WATD FM 95.9 Twilight Showcase LIVE. The show began here, on Facebook Live, with a preview of music --> https://www.facebook.com/sandy.streid/videos/3919610224749760
Jan 2021: Hippy New Year! Music in CHARTS: SEND FLOWERS! Hippy Dance hit #4 on the N1M GLOBAL Christian Pop Chart! As of August 6th, it's still on the chart at #26!
2019:  Colette was asked to contribute words of inspiration, included in Soundtrack, featuring Julian Lennon, Quincy Jones, and others, that premiered at the United Nations! (see below, One Little Finger Movie!). Buy the album here!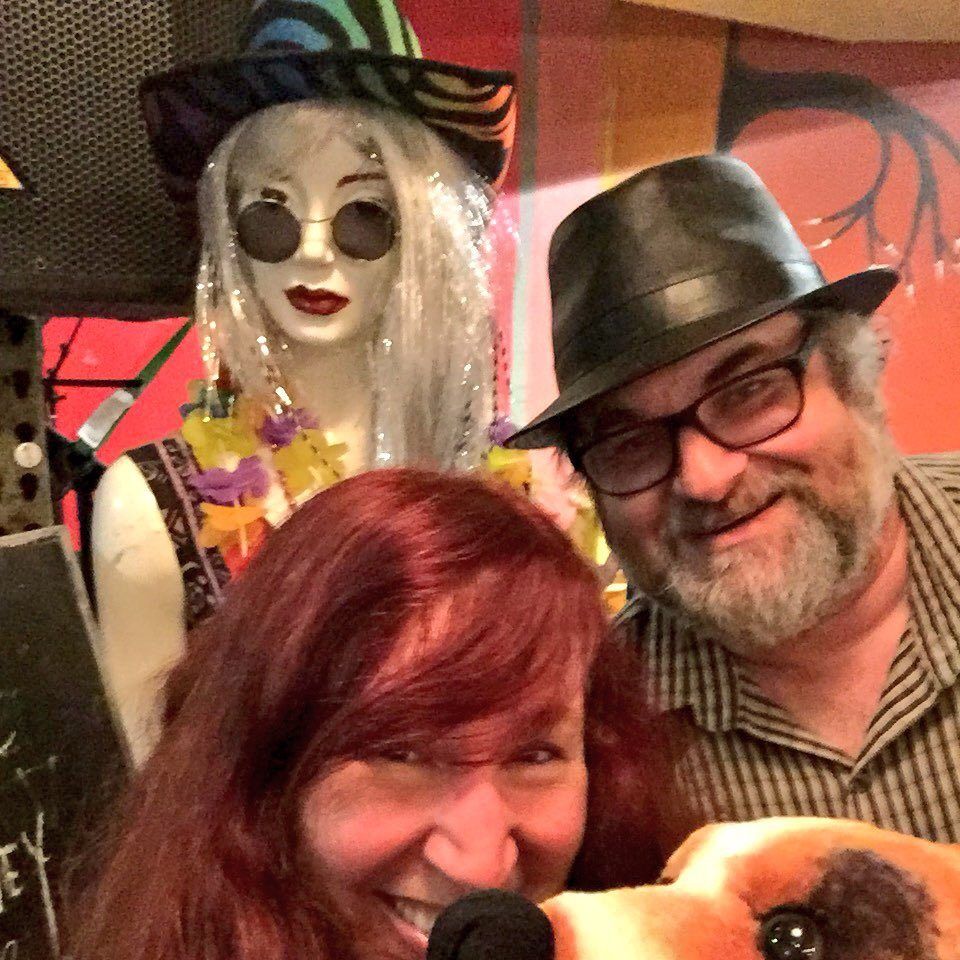 The Woodshed Podcast
from the (former) Hearing Room, lowell, ma.
Ever wonder why Colette never became a nun?
Want to hear an exclusive preview of what her 1940's Traveling Radio Show sounds like?
Host Aaron Tornberg (now the host/operator of the NEW venue One Broadway Collaborative, Lawrence, MA. https://onebroadway.org/) asked the questions and the honest answers simply happened!
Listen to the live podcast below, it's all in there, along with a preview of Colette's Steele Beach BBQ Live Radio Show!
Movie Soundtrack Inclusion
one little finger 
acted in by over 80 children and adults with disabilities
"I could not be more proud of what this important International film will accomplish. To have words I have written and recorded, in my own voice, included among voices I've long admired, like Julian Lennon & Quincy Jones, the soundtrack of One Little Finger movie will perpetuate a "can do" message of inspiration, in music. That all this debuted at the United Nations too is a dream come true!" ~ Colette O'Connor
Colette was invited to write her feelings about humanity and individual potential, and then she recorded them for inclusion in the film soundtrack:
Bonus Track 25: Voices of the People From Around The World, that includes words by Julian Lennon.
‬ An incredibly revealing and affirming film that honestly depicts humanity; with great care and focus on what is and what can be! #OneLittleFinger
Colette O'Connor's album – I Think I Am – Voted in the top 15 CD's of the Year 2016. Nominated CD of the Year, Pulse Magazine and Worcester Music Awards. 
Colette is a visionary who sings because she must and because she does, all who hear her are filled with light and wonder. - Debra Andersen, Radio Programmer/Host "The Wimmin's Show" KZUM 89.3 FM-HD, Lincoln NE. 
On "Ground to Dust" THIS is a real thinking persons song. There is deep, deep meaning here. Almost like an Al Stewart song: just when you think you've found the center, there lies yet another layer. - Daniel Stratton,  The Wanderer, Independent Radio Host 
I Think I AM is an exemplar of what good acoustic music should be in this time of same-sounding pop hits. Her original songs—from the pragmatically philosophic title track to the delightful story of the "People on the Porch"—resonate with both joy and insight, and deliver a pleasing vocal style combined with some outstanding musicianship. There are sixteen tracks in all, and every one is fashioned with both warmth and wit, evoking the poetic spirit of this talented artist. Songs like "Penny in the Pond," "Been There Done That," "Hide and Seek," "Huckleberry Finn," and the rest are worth listening to again and again. As a songwriter, O'Connor deftly crafts words, matches them with original melodies, and then infuses them with her own personality, creating something very special. -Nick Noble, host of THE FOLK REVIVAL on NPR station, WICN (Worcester Public Radio).