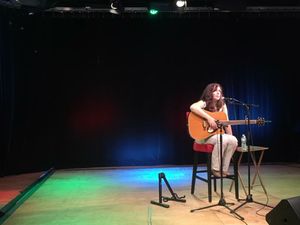 Artist Bio:
Sometimes Eye-Twinkles Need Recharging:
Colette O'Connor is a New England-based singer, storyteller, songwriter, neoclassical composer, and skilled acoustic guitarist. Her voice has a rich folk-singer quality combined with Americana strength. Her voice can be gentle like Joni, or strong like Janice, and the charm of her song is all in the balance. 
O'Connor's music is refreshing, relaxing and re-charges eye-twinkles with an adventurous sense of fun. Great for all ages.
Born on San Diego Naval Base in California, Colette came to Massachusetts after her father's tour of duty was over and the family moved back home to start an organic farm in Plympton MA. Influenced by two coasts, O'Connor's music is a delightful blend of sunshine, kindness, philosophy, and fun New England wit.   
Most of her adult life was spent raising four amazing children to be independent thinkers, and because she used storytelling, creative play, and lots of museum field trips, they also understand that creating magic takes dedication. It was raising four children that helped flavor her music with witty philosophical wisdom; mixed with a touch of fun.  
Overcoming hearing loss and the impacts of a neurological disorder while supporting her household, family, and partner with Multiple Myeloma, hard-won perspective has gifted her performances confidence and positivism. 
Now a full-time performing Singer-songwriter with three album releases, O'Connor has been touring/traveling with her music since 2012, and has become regularly featured, in live concerts, community radio and television from New England to Nebraska.  
Her song "Rising UP" selected for recording at WERS Radio Studios, Emerson College, Boston, has, to date, been also selected for inclusion in two inspiring album compilations and multiple events:  MUSICIANS FOR BOSTON STRONG Fundraising CD, sponsored by Emerson Collage; and Greg Brasso's upcoming Veteran's Awareness CD Project, WATD FM, Marshfield. 
O'Connor's second album "I Think I Am" was named top among the 15 of 2016 by NPR station WICN FM 90.5, Worcester, by Nick Noble, host of the popular Thursday night, "The Folk Revival", and nominated for Best CD 2016 Award at Worcester Music Awards, by Pulse Magazine.  
Social Activism:
To combat war, with music, Colette works as an emissary/organizer for Musician's without Borders and coordinates "World World Music Day" concert/fundraising events on their behalf. Learn more about this artist's mission here: https://www.musicianswithoutborders.org/2017/04/introducing-wwmd-participants-colette-oconnor/ 
Colette O'Connor has made her debut as "Frances Perkins" the first U.S. Woman Cabinet Member, in the Nationally acclaimed Women's History Musical Play: "We Did It For You" that was performed on Women's Equality Day, August 26th in the Great Hall Performance Stage of Bostons' Historic Faneuil Hall Marketplace.
 Working to Heal, Inspire, and Encourage: 
As a mother, Colette O'Connor's performances encourage everyone but behind the scenes Colette is a strong supporter of women in music. Co-Founder of Women In Music Gathering, Colette and a great many talented women from around the Boston area have formed an artist coalition that meets to support each other by sharing resources and strategies, as well as performing out fundraisers as variety acts in support of non-profit causes.
She has published, online, Women Singer Songwriter Magazine as a supplemental resource for up and coming women/trans musicians. Currently on a production break, Colette spent years creating and podcasting a monthly radio segment "Notes from New England" as a reporter of women's music and stories on "The Wimmin's Show" broadcast on KZUM FM-HD 89.3, Lincoln Nebraska.  
Previously producer/host of Colette's Spotlight, Ccctv, Dennisoort MA, she interviewed other talented singer songwriters. She did the same, as co-host on Ecat TV's program "For the Love of Words" in Easton, MA, as well as for RPX Radio program "Studio Session Live" segments.
Industry Quotes:
               "I dislike genres but would call this contemporary acoustic folk/Americana touched with philosophy, heart, and a sparkling wit. " - Nick Noble, host of "The Folk Revival" on NPR station WICN FM, Worcester. 
                "You can hear so many greats influencing her music, and the result is beautifully unique." -Deb Andersen, host of "The Wimmin's Show" KZUM FM, Lincoln NE.  
"Like re-discovering the heyday of Women Singer-Songwriter"-Pulse Magazine, I Think I Am, CD of the Year, nominated Worcester Music Awards, 2016
Artist Insight: 
"Dad played a four string Harmony tenor guitar that he rescued from the rubbish, I can't remember if it was on or just near his Navy barracks, but I do remember he said it only had one string.  He taught himself to play it anyways! Ten years later, Sister Margaret told me I couldn't be in the school talent show because I didn't play an instrument, so I went home and borrowed dad's guitar from under his bed. It had all its strings by then, and it's been an amazing inspiration ever sense.  There's been a lot of time spent searching for the right chords, words and feelings to fit each original song, and I've come quite a long way to share them with you here.  I never meant to be a performing singer songwriter but, as it has been a true calling of love, it became completely unavoidable!" -Smiles, Colette